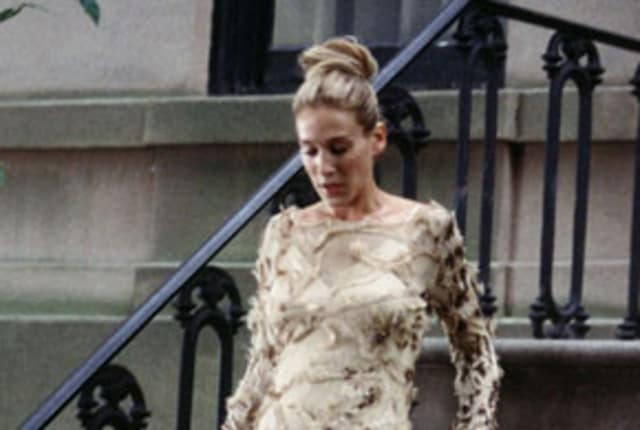 Announcement Dear visitors, For better browsing experience on our site, we recommend using Brave browser , a fast, free, ad-blocking, open-source web browser. Please "pin" our site in your Brave Payments panel, and reward us with your FREE tokens if you'd like to show your support. Sex and the City Season 4 Episode 13 The Good Fight Someone once said that two halves make a whole.
And when two halves move in together, it makes a whole lot of stuff. I got coffee and papers, but I think the more pressing question is, what have you been doing? I needed a space for my work papers and stuff, you know, so is that okay? Yeah, sure yes, it's just… you're blocking the bathroom door. Yeah, but you got another one. Who needs two bathroom doors? Me, the one who loves her two bathroom doors. Why do you need two doors for? Sometimes I'm in a hurry and it's just quicker to go, ping, out that one and it's my escape route in case.
In case rapists come in my bedroom window I see them in the mirror and then, phew, I'm gone. There's a whole lot of phewing going on in that bathroom. And would that be happening in the next five minutes please, God? Closing at the end of next week. Really, what's the problem, right? The man brought a living thing into my apartment. I don't do plants. I kill everything I bring in there. You said yes to moving in, he moved in. But he's taking over whole areas. This is why I've never lived with a man.
This, and the fact that I want them out an hour after I climax. You let them stay a whole hour? You'd be surprised how many are ready to go again after a quick catnap. And there's no walls, there's nowhere to hide. As soon as I walk in, he's all up with: But there have to be some adjustments. You guys, I miss walking into my apartment with no one there and it's all quiet and I can do that stuff you do when you're totally alone, things you would never want your boyfriend to see you do.
Like, I like to make a stack of saltines. I put grape jelly on them. I eat them standing up in the kitchen reading fashion magazines. I like to put Vaseline on my hands and put them in Borghese conditioning gloves while watching infomercials. Before I was married I used to study my pores in a magnifying mirror for an hour each night. But I'm afraid Trey will think it's weird. You can't do that stuff in front of men. What about you, Lolita? Anything you do you wouldn't want a man to see?
Hey, didn't we make a rule about those things at lunch? I'll see you in an hour. He wants me to drop something off this afternoon. A little skyrockets in flight, afternoon Delight? I also like to gossip on the phone while secretly pumicing my calluses. So, how is he? And spare no detail, I'm a horny pregnant person. Or you would tell us all the dirty details. My God, we're gonna have to ice skate home.
Hell just froze over. Okay, you want details? He's got the most perfect dick I've ever seen. All right, so, what should I do about Aidan's stuff? I'm gonna have the girls over for dinner.
That sounds like fun. I'm trying to get my day planner back together. I have much more free time since we left the baby track. Some apartments are cluttered with physical stuff, others, emotional stuff. I've wanted a baby ever since I was a little girl. We have a baby room and no baby.
I've got some good news. Bram Pomander thinks he's snagged us orchestra seats to The Producers next week. Charlotte, yes, we're disappointed. But life goes on. We still have to find a way to have a giggle. Come on, give me a smile. How do you say "fuck you" in German? Why do you speak German? A gal has her reasons. That wasn't "fuck you", it was "fuck me". I thought about you all weekend. Let me see if I can give you something to think about all evening.
Bring out that gorgeous dick. You're gonna get down on your knees right here? What if my assistant sees you? I dropped my portfolio. That may take some time to pick up. Das ist einen sch? Better get those, while you're down there.
If I had known you were gonna turn out to be so not a loser, I would have run home after work and changed. Or at least put on some fresh deodorant. I was a much younger man when we started trying to set up this blind date. You're the one who kept canceling to go to… Where were you?
First time, Spain and Romethe, second time, Luxembourg and Athens. Walker Lewis, fluent in five Languages, traveled the world as a State Department interpreter. Seriously, Miranda, best blind date I have ever had in the continental U. Listen, any reason I can't see you again before I go to Brussels? He is so cute and funny and sexy. And I really want to have sex with him. But I don't know. Is it okay to fuck one guy when you're pregnant with another guy's baby? If one more person asks me that today.
I mean, I'm not in a relationship with the father of the baby or anything. I've rarely heard that used as a plus, but go on. And beyond tacky, is it safe? Let's assume he's a really great fuck. Because so many men are. Could all that poking shake the baby loose or something? Married couples have sex all the time.