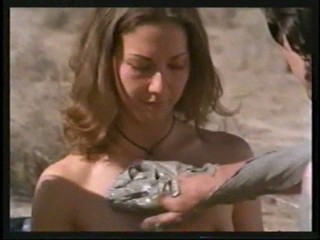 The day involved a group of women I don't remember exactly how many all getting off at the same time, led in various exercises to help us in our orgasmic quests. I'd masturbated in front of someone else before, but that was in bed -- and in private -- and even then, it was a little nervewracking.
But I wanted to be part of this! And while I don't consider myself a sexual exhibitionist per se I'd almost always rather watch than be watched , I'm an exhibitionist in, I guess, the famewhore sense.
The chance to be on TV was exciting, plus there were free sex toys, and anyone who knows me knows that just hearing the words "free stuff" has an almost Pavlovian effect on me. What I hadn't realized was that, for someone who finds achieving orgasm a bit of a challenge, even with the "Cadillac of vibrators," my beloved Hitachi Magic Wand , trying to do so with a bright camera in my face would be much more difficult.
Add to that my competitive nature and I felt a bit of my element as women around me were coming loudly and enthusiastically. Let me be clear: Nobody was pressuring me or measuring the length or number of my climaxes…well, nobody except me. I wanted to do a good job! So I tried to tune out the cameras. It was a fun environment, and a sex-positive one, but not exactly a sexy one for me. The way my face furrows when I'm enjoying solo sex probably doesn't look all that attractive, and I'm OK with that, because the point isn't to show off but to get off.
But if I ever make a sex tape, I'll probably put my all into acting and making sure the camera gets my best angle. I couldn't juggle both trying to be "on" in terms of looking good and trying to genuinely capture what I look like in the throes of masturbation or sex. Toward the end, the wonderful Barbara Carrellas , a Tantric sex proponent, sex educator and author of Urban Tantra, led us through some breathing exercises.
She was very encouraging, but I'm way too impatient to breathe slowly, though I tried my best. Having someone coach you on how to breathe, something we all do every day and don't think much about, was challenging. It seems like such an instinctive activity, but is also something we can learn to do to maximum effect. I was under a sheet, and probably had my legs splayed in some weird position one that would be hard to even explain, but during a typical masturbation session I probably look like I'm contorting myself, with one leg to the side and one behind me , and as I followed the breathing exercises that everyone else in the room was doing, I felt myself come.
It was more of a quiet, intense climax than a screaming one. I remember opening my eyes and seeing a bright light shining into them. I've never seen the episode , and don't plan to.
I've been told that it's aired many, many times. One friend and her boyfriend somehow managed to flip past it every time it aired, and she'd text or email me to tell me. Now, even if you write about sex for a living and are sort of an exhibitionist, it's still weird to have a close friend tell you she saw your face scrunched up as you pressed an electrical vibrator against your pussy on national TV actually, I don't think she did more than flip past it, but still.
I'm glad I did it, because if I hadn't I wouldn't have known what it was like, and that's not an opportunity that comes along no pun intended every day. I got to try out other vibrators, and it was cool to experience something I never have before, even at sex parties -- a room full of women all intent on getting off. While obviously it was a sexual event, it had more of an educational, rah-rah, what-can-we-try-next atmosphere than a let's-get-it-on feel, and that's the main reason I'm glad I did it.
I have plenty of body issues, and I'm not saying that masturbating in front of other people cured them, but it helped, as did hearing about how other women get off, which reinforced for me that everyone's different and there's no one right way to pleasure yourself.